---

A regular practice of yoga Vinyasa, why? 
- Detoxify, strengthen, relax your body, take care of yourself 
- Release blockages and physical tension 
- Arise the body energy

- Relax your mind and cultivate positive thinking 
- Get to know yourself
The goal is to achieve mental and physical well-being. 
Vinyasa Yoga is a dynamic form of yoga that is a tonic and fluid sequence of postures with rhythmic breathing.
---
10 SESSIONS+1 FREE

 

20 SESSIONS+3 FREE

 

     30 SESSIONS+5 FREE

 

120€**

 

 

220€**

 

300€**

 
 
11€/session
 
9.5€/session
 
8.5€/session
valid 3 months
 
6 months
 
9 months
INDOOR TRIAL CLASS:  FREE TRIAL, please book in your spot : https://bit.ly/2CbUrt2 (For new customer only, limited to 1 trial)
** €18 registration fees to the Atelier de Soi (until end of April) not included 
---
 SINGLE CLASS

 

     5 SESSIONS + 1 FREE

 

10€

 

40€*

 
No subscription
 
6.5€/session
No trial
 
5 months
---
 From € 60, please contact us for a quote.
---
From 10th of September 2017 to 30th of June.
You can start at any time of the year. Beginners welcome!!
Free trial september to mid-October :-) on reservation only !
 

 AT THE ATELIER DE SOI

            (on reservation - mat provided)             

                                

MONDAY
THURSDAY 
FRIDAY

Yoga vinyasa

12:30 am to 1:30 pm

7:30 pm to 8:30 pm

7:45pm to 8:45pm

6:30 pm to 7:30pm
From November 3rd (after the end of outdoor classes)
 

 AT SHAKE UP STUDIO

            (without reservation - mat not provided)             

                                

SATURDAY
SUNDAY

Yoga vinyasa

10:30am to 11:30am

6:00pm to 7:00pm
---
LIEU - RDV :
* Esplanade de Malmousque : Parking rue de la Douane, sous les légionnaires
* Plage du Prado : rdv au pied du monument Arthur Rimbaud, à côté de la base nautique du Roucas
* Plage des Catalans : rdv sur la grande esplanade sous le Cercle des Nageurs Marseillais
* Parc de la Torse : rdv sur la pelouse en face de l'arrêt de bus René Cassin
 INFOS PRATIQUES :
Apporter votre tapis ou à défaut une grande serviette ! Location de tapis : 1€
Pas de réservation nécessaire
Cours ouvert à tous les niveaux de pratique, débutants bienvenus !! 
Merci d'arriver 10mn à l'avance, le cours commence à l'heure
★ Cours annulé en cas de pluie ou de vent >70KM/H
★ Cours non recommandés aux femmes enceintes
★ Bonne condition physique préalable requise
---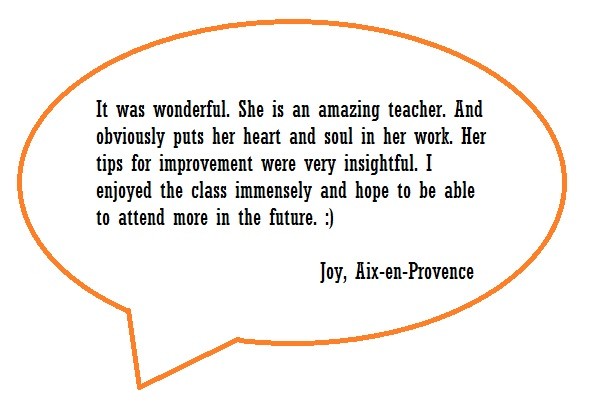 ---
 PRACTICAL INFORMATION :

Dress code
Adopt a flexible and comfortable fit for greater freedom of movement , preferably cotton to allow the skin to breathe.
Yoga is practiced barefoot.
Intake
It is advisable not to eat 2 hours before class. If you 're feeling peckish choose a fruit shortly before the meeting.
Remember to moisturize after the course. Drinking water (preferably rich in magnesium ) to detoxify the body .
Health
Pregnancy, health problems and injuries must be reported to the teacher before the start of a course.
For women: Inversions (legs located above basin itself raised above the heart, eg handstand ) should be avoided during period because they reverse the blood flow and the intense twists. Should be performed gently not to go to maximum of its capabilities.
Gecko Yoga à L'Atelier de Soi 
 27, rue Fernand Dol - 13100 Aix en Provence
Gecko Yoga à Shake Up Studio
10, Av. Maréchal de Lattre de Tassigny - 13100 Aix-en-Provence
Tel.:  06 52 95 48 84
Mail: geckoyoga@yahoo.fr